Download platform favorit dan populer - MT4 Mac OS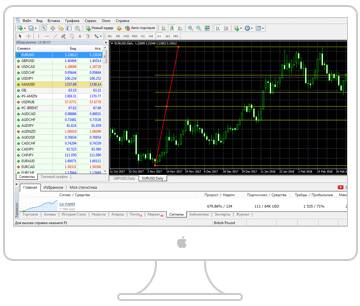 MetaTrader 4 merupakan platform perdagangan terkemuka yang memungkinkan untuk merialisasikan operasi perdagangan dan analisis teknis serta memperdagangkan berbagai instrumen keuangan dalam pasar Forex danCFD.
Saat ini, IFC Markets tidak menyediakan platform perdagangan MetaTrader 4 untuk Mac OS X, namun klien kami dapat menggunakan pilihan berikut untuk instalasi MT4 untuk Mac OS.
Bagaimana untuk menetapkan MT4 untuk Mac OS
Terminal MetaTrader 4 untuk Mac OS dapat diinstal dan digunakan pada komputer yang mengoperasikan sistem operasi Mac OS melalui PlayOnMac.
PlayOnMac adalah perangkat lunak percuma yang sangat mudah untuk diguankan, yang memungkinkan untuk menginstal aplikasi Window pada Mac OS.
PlayOnMac berdasarkan pada Wine yang merupakan produk yang tidak stabil secara sepenuhnya. Ini berarti fungsi pada aplikasi berikut mungkin tidak berfungsi dengan baik. Untuk menghindari masalah kami menyarankan untuk menggunakan platform Meta Trader 4 untuk iPad dan iPhone.
Attention!
PlayOnMac is based on Wine which is not an absolutely stable product. This means that the functions of the application may crash and not work properly. To avoid problems we advise to use MetaTrader 4 platform for iPad and iPhone.
Untuk memasang PlayOnMac, anda perlu untuk membuka link berikut http://wiki.playonlinux.com/index.php/Installing_PlayOnMac dan ikuti langkah yang ditetapkan dalam bahagian berikut.
Hanya selepas sempurna memasang PlayOnMac, anda boleh download MT4 untuk Window.
Create Unlimited Instruments
Trade with Trust
Regulated by BVI FSC & LFSA
IFCMARKETS. CORP. is licensed by the BVI Financial Services Commission
IFC Markets Ltd is licensed by LFSA in the Federal Territory of Labuan (Malaysia)
8 International awards in 2020-2021
"Best International Broker Vietnam 2021" by International Business Magazine
"Best International Broker South Korea 2021" by International Business Magazine
"Most Customer Centric Broker Indonesia 2021" by The Global Economics Awards
Insured by AIG
Insured by AIG Professional Indemnity Insurance for Financial Institutions.
US Patent issued for the Portfolio Quoting Method (PQM)
IFC Markets' unique and exclusive Portfolio Quoting Method (PQM) was granted a US Patent.
MULAI TRADING DENGAN IFCMARKETSAkses Global ke Pasar Keuangan dengan

Satu Akun